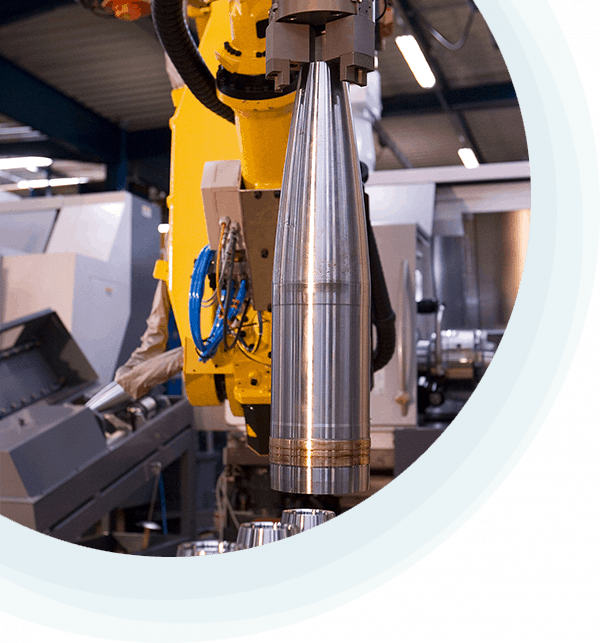 Aerospace & Defense – Production
Nexter Munitions
They lead in
Nexter Munitions is part of the Nexter Group. Nexter Munitions produces medium-size ammunitions for armed vehicles and canons. The company is organised in production lines which may appear rather simple to plan, but do not be mistaken: the challenge to coordinate the totality of the work from a central planning room to decentralize operations is real.

The company has to deal with an array of different product characteristics which tend to complexify the organization of the work across the different workshops and, of course, in the planning room. Nexter Munitions used Excel to plan all of its production from the short to long term.
They use the same ERP system as other subsidiaries of the Nexter Group, despite the respective operation processes (activities, resources, plants, etc.) being different. Nexter Munitions is made up of two subsidiaries, three sites and nine different production lines, which gives an idea of the magnitude of the central planner's planning and scheduling challenge.
Nexter Munitions wants to reconcile long and short-term plans. They want to know how to face increasing demand in the long run, how to calculate a reliable budget in the mid-run, and how to make the most of existing resources in the short term. Nexter Munitions also wants greater control of the execution of the tasks in order to react quickly when progress deviations appear. In a later phase, they wish to steer all the S&OP processes at the scale of the group from a centralized entity.
The Nexter Group is composed of three companies (in France, Belgium, and Italy) that have similar production capacities, but not the same production processes. It is therefore quite difficult to know today where it is the most opportunistic to produce new orders. On the bright side, once PlanningForce is implemented within the three companies, a consolidated view will be developed facilitating the identification of opportunities. This will offer the Nexter Group advice based on calculations and analyses regarding which new orders should be taken based on their potential rate of return.
While appearing similar to the solutions implemented in the Nexter Group, we had to adapt the interface to meet specific aspects of the Nexter Munitions operating ranges. In addition, the complexity of the operational organisation has led to the development of new ways of disseminating information through information systems. Thus, in addition to the technical challenges represented by an implementation project of this scale, there was an organisational challenge that had to be met by a new management methodology, structured within the framework of "Enterprise Lean Planning".