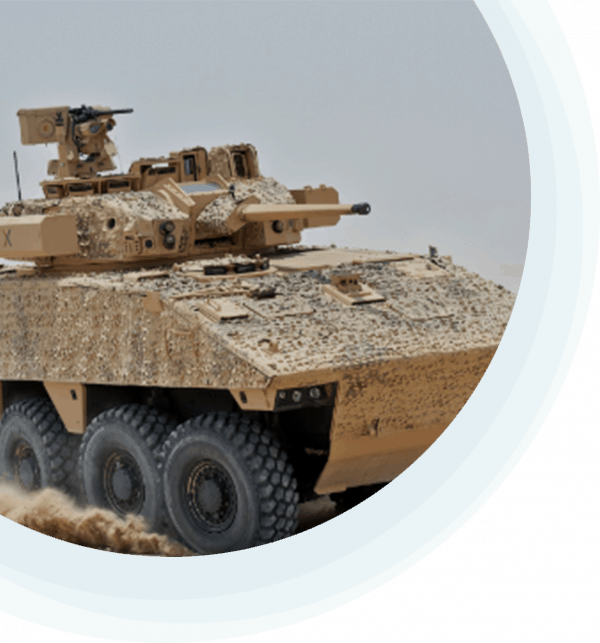 Aerospace and Defense – Production
Nexter Systems
They lead in
Nexter Systems is part of a large group of European industries that work for the defense sector. Nexter Systems builds tanks and lightly armed vehicles for European armies. Nexter Systems is currently experiencing growing demand and has had to deal with tight production deadlines as well as capacity limitations.

In order to manage both long and short-term planning, Nexter Systems used Excel. This solution was suitable when the use of the available resources was less problematic. Excel has since been unable to support their planning calculations. This led to inefficient communication across routings and BOMS coming from the ERP system. Lack of visibility evolved as it became increasingly complex to judge whether resources were critical in the long term, and to seek to optimize the current capacity usage, in the short term. 
Nexter Systems wanted to find one single system in which they could plan and schedule both the short and the long term. They wanted to interface this new system with their ERP to download the routings and BOMS corresponding to the specific vehicles that they need to produce. They also wanted to know how to optimally deal with increased demand. Nexter Systems wanted to link their CRM system to the new planning system in order to quickly interact with the sales department when contracts are in the negotiation phase. The particularity, and complexity of the demand is caused by the size of the planning that they need to produce. 
Once downloaded from the ERP, the number of tasks to plan is over 300,000 and the number of available resources over 1,200, whereas the planning horizon can reach 10 years!
The solution was built around the three upper levels of PlanningForce – Strategic (L1) – Tactical (L2) and Operational (L3). The interface was done through the API. The new tool has been elaborated to easily create and adapt the long-term plan (L1), while immediately being translated into a tactical plan (L2). The latter takes into account realistic capacity constraints, therefore it is easy to modify the capacity, by adding future resources which meet the increasing demand.
The short-term part of the Tactical plan is "delegated" to the Line managers (acting at L3) who have the responsibility to deal with day-to-day events. These managers record daily progress which is centralized through an ERP import every week in PlanningForce. This is done for the process cycle, and to be able to adapt both to the operational and tactical plan. The tactical plan (L2) is also sent back to the ERP, so it can then run the MRP module and optimize the supplies. PlanningForce algorithms were "tuned" in order to handle the heavy amount of data as the goal was to plan and match all tasks and resources in less than 10 minutes!