Decide, Execute, and Monitor Faster and Smarter – part 1
Frederic Dufour / Mar 13 , 2023
Among the many challenges we perceive for the future management of companies, two aspects in particular draw our attention:
1)     The pace and intensity of various types of crises are tending to accelerate
2)     The recruitment of skilled candidates is becoming increasingly difficult
This article examines how these challenges can affect business performance and how new tools and methodologies can offer appropriate responses.
In this first part of this article, we present how a network of distributed intelligent components can help organisations provide faster more relevant responses to the intensifying crises.
The rise of distributed intelligent components
The need for speed, but not a any price
Over the past 15 years, the number and intensity of crises have accelerated to such an extent that, for many analysts, the question is no longer whether a crisis is about to happen, but rather what the next ones will be. It has become clear that crises can now take all sorts of characteristics: they can be financial, geopolitical, energy-related, environmental, or health-related. In practice, they take the form of market turbulence, war, migration, trade restrictions, price volatility, environmental disasters, and pandemics.
At company level, the repetition and intensity of these crises have tangible consequences: they modify development and production priorities, alter execution processes, affect the availability of resources, disrupt supply chains, restrict access to certain markets, increase cost prices, … to name but a few.
To adapt to these changes, companies need to become increasingly fast in their decision-making processes. Not only because speed can be a matter of survival, but also because it represents a tremendous opportunity to outperform the competition. In this context, the notion of "light speed" is becoming a new management standard in some companies.
However, while speed has become as much the key to survival as to success, it does not always translate into overall positive results. By focusing on how to meet the challenges of crises quickly, we can lose sight of the need to continue current operations effectively. This bias is mainly due to the increasing complexity of processes, coupled with the equally increasing complexity of regulations of all kinds and the need to adhere to ambitious CSR goals.
Combining the speed of decision-making with the efficiency of its implementation throughout the company's complex processes is therefore probably one of the greatest challenges posed to business leaders by the new economic paradigm.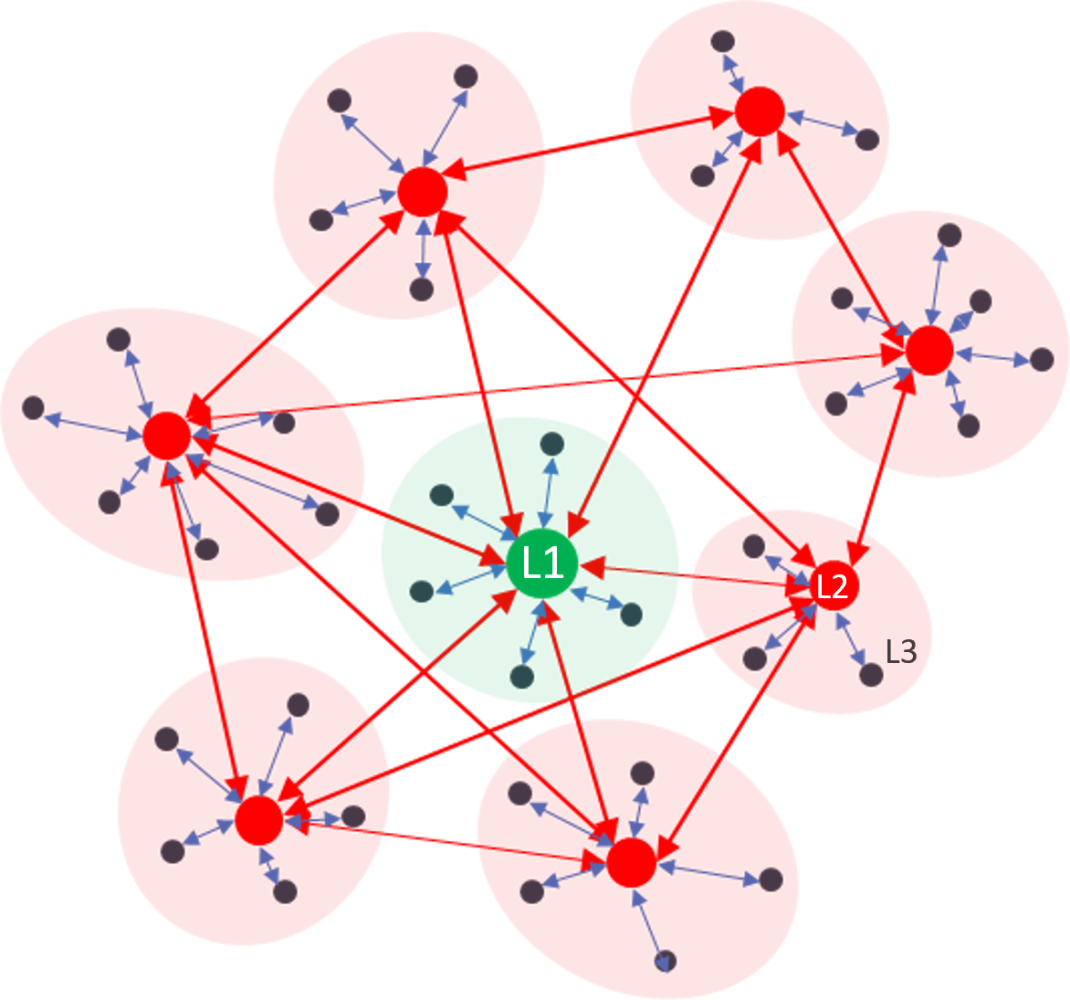 A revolution based on the convergence of AI and new management methodologies
Although there is no simple and immediate answer to this challenge, we see in recent developments the prospect of improving the orchestration of decision-making processes and their smooth implementation across the organization.
This positive statement is based on the rapid development of intelligent components that can be distributed and interconnected throughout the company's organizational corpus. These components play several roles in close conjunction with systems and people.
In particular, they can:
Model different types of event, whether serious (crisis) or accidental, temporary or more permanent.
Estimate the company's degree of vulnerability when such events occur.
Simulate different management scenarios (such as creating redundancy in resource supply and diversifying activities) in response to such events, and measure their impact on the company's performance indicators.
Select the optimal scenario based on the chosen indicators and the benefits for stakeholders.
Dynamically distribute workloads and allocate resources according to their actual capacities, while avoiding bottlenecks.
Monitor the effectiveness of decisions in near-real time, and adjust them accordingly.
Format and distribute information to stakeholders, send reminders and alerts, and detect anomalies.
Analyze data and, where necessary, correct erroneous data or complete missing data.
Generate reports, highlight relevant information and analyze trends.
In the illustration, three management levels (L1, L2 and L3) form a network of physical and dematerialized entities interconnected by these intelligent components. Various configurations can be set up, thus multiplying and diversifying the number and types of connections that can be established between all the components of the enterprise system.
Thanks to such a network of intelligent components, the organization no longer separates the different phases of management processes: decision-making, execution, and performance monitoring are brought together in a coherent, integrated, and well-orchestrated meta-process involving all stakeholders. Resources can be dynamically reallocated in response to disruptive events, giving the company the flexibility to adapt rapidly to an increasingly volatile business environment.
Developing Decision Intelligence
By accumulating data relating to decision-making processes, they also contribute to developing Decision Intelligence (DI) within the organization.
Decision Intelligence, not to be confused with Business Intelligence (BI), is an interdisciplinary field that fuses data science, social science, and decision theory to improve organizations' decision-making processes. It provides a structured framework for effective organizational decision-making, relying on AI-based intelligent components deployed on a large scale.
DI tackles the "complexity ceiling" in decision-making by addressing the mismatch between standard decision-making practices and the increasing complexities of the real world.
At its core, decision intelligence is a practical application of complex systems theory. It helps organizations understand and navigate the complex environments in which they operate.
By applying the principles of complex systems theory, DI offers organizations a navigation methodology that enhances reasoning about complex systems and promotes effective collaboration between all stakeholders.
More ARTICLES
You may also like
Frederic Dufour
This article delves into how a nuanced grasp of algorithms can harness human expertise and intuition, forging a path for better, faster, and more insightful decisions.
Frederic Dufour
In recent years, industries around the world have been faced with an unprecedented challenge: the dwindling number of qualified candidates. How to cope with it?
Frederic Dufour
This article explains in detail how setting up a multilevel planning organization will help companies strengthen their quality, reputation and profitability.