Where do I gain with PlanningForce – part 2
PlanningForce / Mar 13 , 2019
With the help of PlanningForce, your company can optimize its global performance through the exploitation of previously non-integrated and non-optimised planning processes. PlanningForce therefore facilitates the pairing of rewarding projects with the resources you have at hand. Below are some of the gains generated with the help of PlanningForce.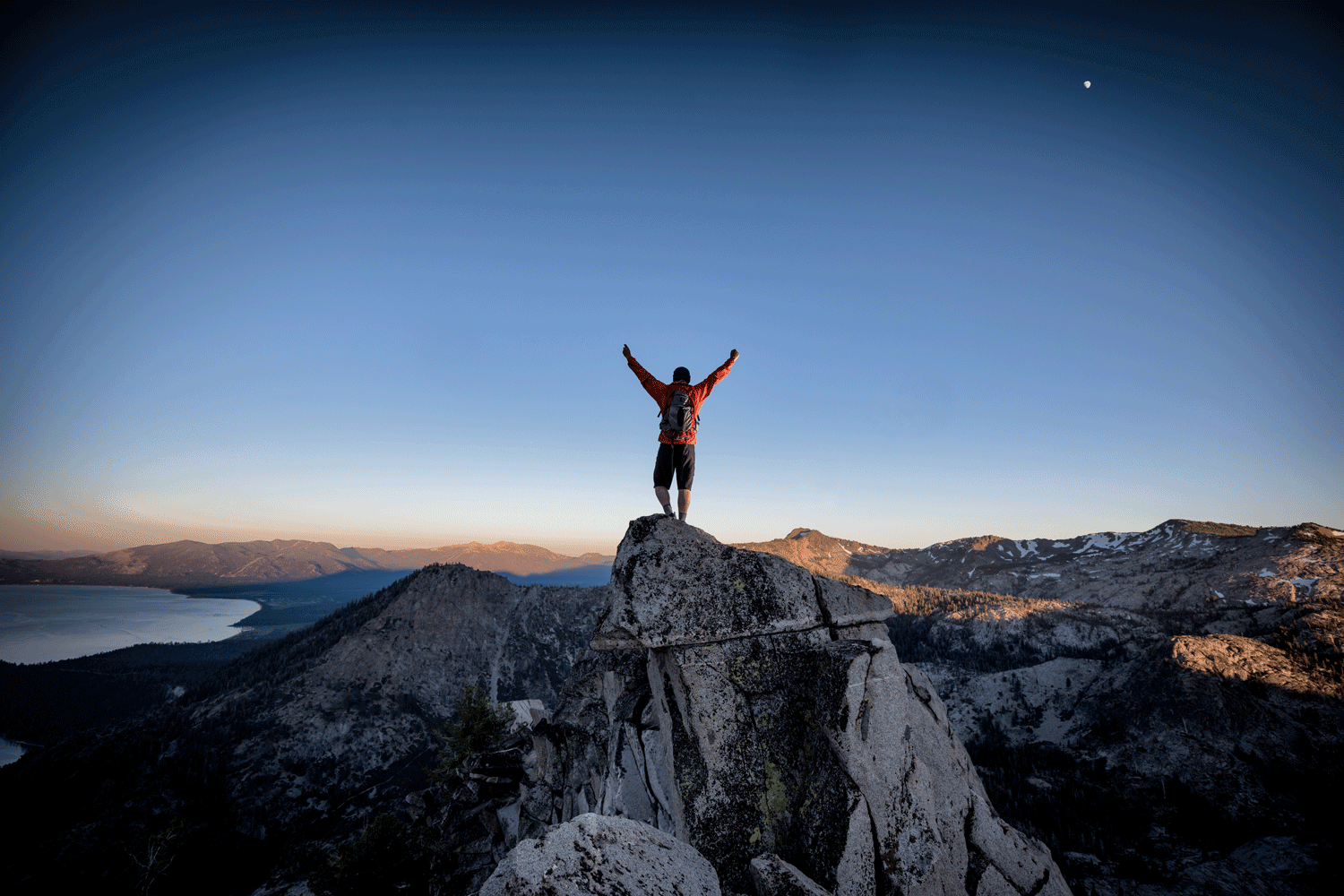 Optimizing Cash Flow can be done by keeping better track of cash inflow and outflow, when observing your business value chain. As you optimize cash flow, you will also simultaneously reduce work in progress, optimize supplies, reduce penalties and consolidate orders and deliveries. 
With the help of PlanningForce, this gain is secured by modelling each business deal. This is done, not only concerning the production aspect which implies modelling the flow of materials, resources, and internal and external services, but also on the related aspects of delivery and payment. The optimization engine thereby offers solutions that can smoothen out cash flows, either dividing up, or consolidating orders and optimizes incoming and outgoing logistics costs.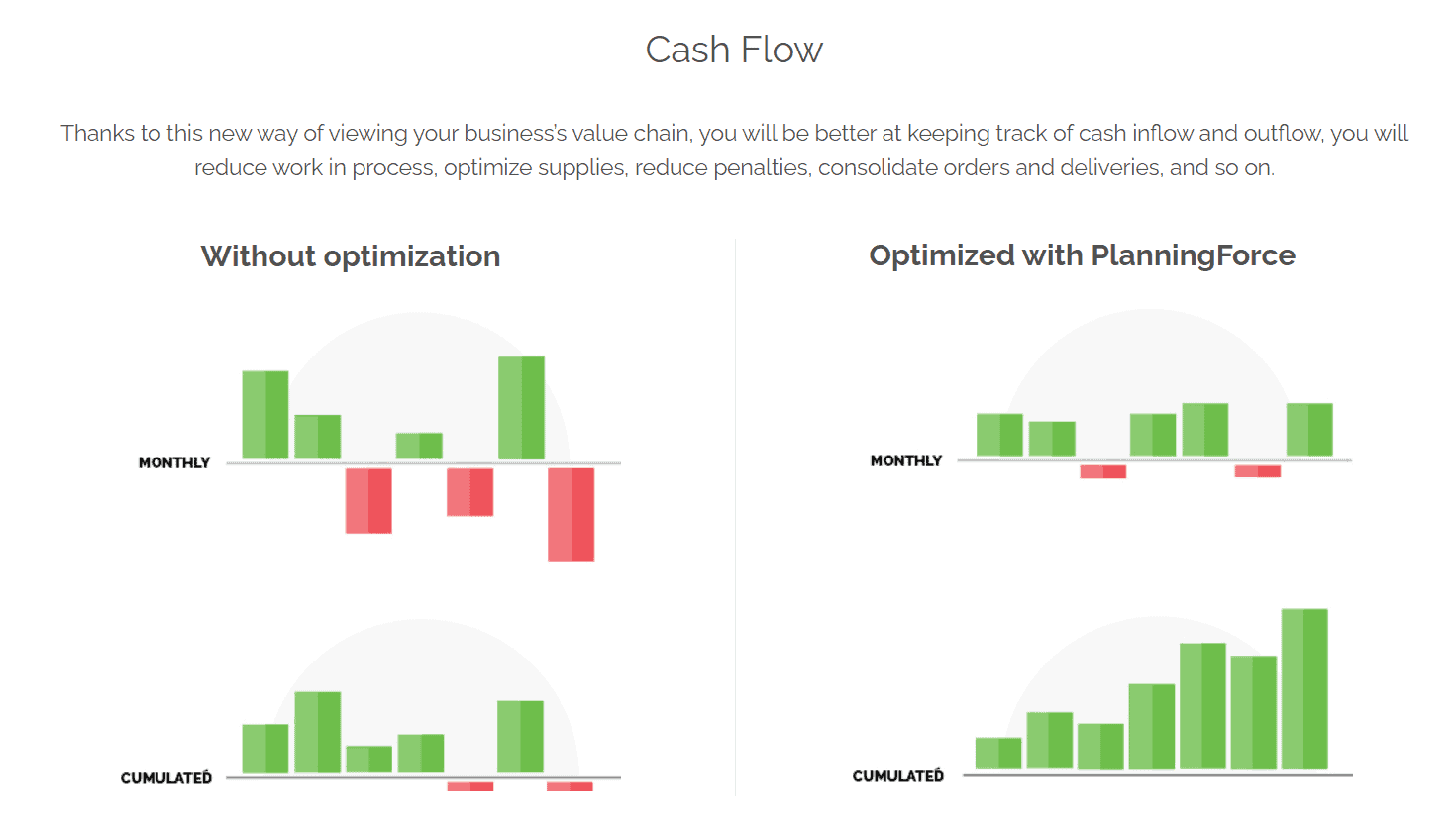 Improving Time Management enables you to devote more time to high value-adding tasks for your business, such as defining strategies and implementing them.
Thanks to PlanningForce, this gain is secured through the natural reduction of lost time. It flows from the rational utilization of the system's tools and data. The scheduling engine calculates optimized timetables in mere seconds. The decisions made have an immediate impact across the organization's many levels and reports are automatically generated revealing gaps or problems, showing their source. Furthermore, reminders are automatically sent out to partners, facilitating the task and buying you time.

By optimizing your business's steering practices, many operational and commercial aspects are improved. Performance is then strengthened, thereby creating a positive feedback loop for your business's bottom line.
With PlanningForce, gains concerning Subcontracting and Infrastructure Costs are generated by negotiating framework agreements that match, with ever-increasing precision, the company's future needs. Moreover, the optimization gained at different stages of the value chain have multiple positive consequences: there are fewer penalties as it is easier to meet deadlines and standards of quality (resulting in fewer lost clients). Absenteeism drops and breakdowns follow as resources and preventative maintenance are managed better. In turn, this results in fewer Errors, Waste and required reworks.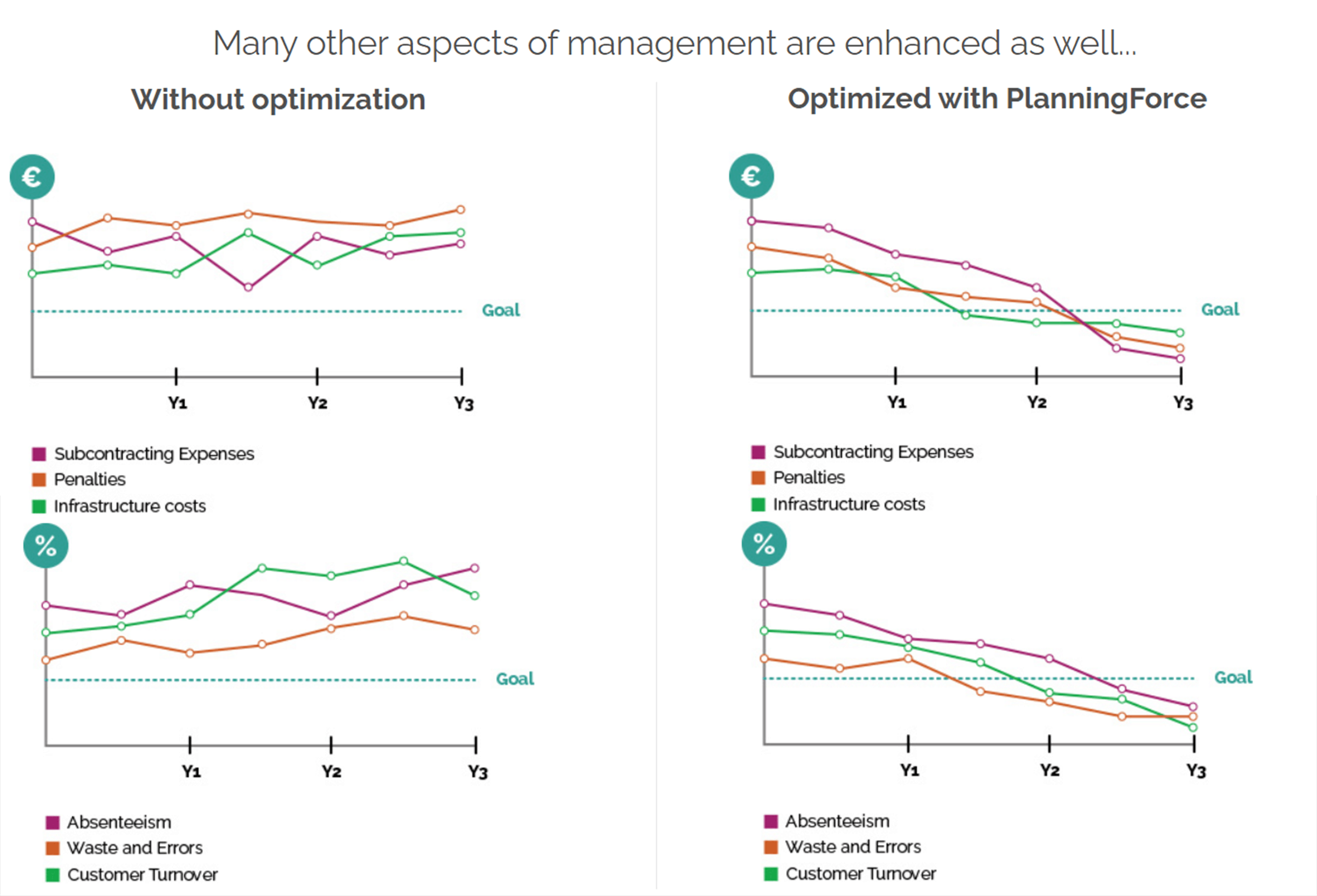 More ARTICLES
You may also like
Frederic Dufour
This article discusses the immediate and future consequences of the Coronavirus crisis. More specifically, we address the structural dimension of the crisis.
Prof. Gaetan Libert
This article sheds light on what needs to be taken into account when trying to optimize planning and scheduling with artificial intelligence.
PlanningForce
Operational Steering focuses on carrying out business activities across all departments in conformity with what is defined at the stage of tactical planning.